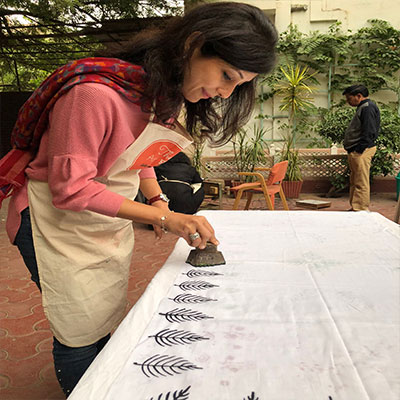 Block print is a much loved art from Jaipur. Magic is created on cloth from small blocks of wood in the hands of expert artisans. We bring you closer to this art form, and others, in our unique workshops that are organised here at Arya Niwas!
These workshops are educative, and a lot of fun as well. Full of different colours that you use to create your own design on a scarf or handkerchief that you can carry as a memento! Let the artist in you awake, splash colours, create patterns and carry home memories of this age old art form, used for centuries to create wearable art for kings and commoners alike!
In block print classes you learn the basic of printing on cloth. The scarves, handkerchiefs etc that you print are yours to wear, or gift! We urge you to get down and dirty in colours of different hues in this workshop!
Other than block printing, we also have two more attractive add on in this workshop:
Mandala Painting: Mandalas are eye catching circular patterns, designs that are explained as a circular figure representing the universe in Hindu and Buddhist symbolism. Jung has a deeper meaning attached to Mandala: in psychology it is explained as a symbol in a dream, representing the dreamer's search for completeness and self-unity.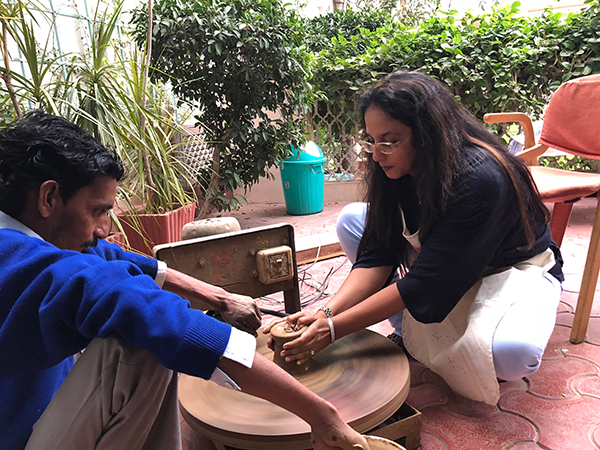 Paint a mandala, immerse yourself in the pattern and the colours, may we dare say give time to pause and look within! Come out of the experience calmer, happier and with another memento to carry home! These are one of the most off-beat things to do in Jaipur.
Pottery: Pottery is as old as human civilisation. The potters wheel has been spinning for the millennia and creating magic from mud. In our workshop, unique and enriching, we also have a potter. Get down, touch life sustaining mud, get messy and enjoy creating a form out of the formless. Create a small pot a small katuri or lamp that you can then paint and carry with you. You can carry it in its beautiful earthen hue as well.
Highlights of the workshop:
3 hours, 2 activities, 3 mementoes, countless memories!
Interactive, immersive and fun. No lecture no classroom, just hands on experiences!
Arranged not at a factory but in the comfort of an award winning hotel – Arya Niwas!
Helpful, friendly, knowledgeable and enthusiastic co-ordinator with loads of stories!
Can be arranged at a short notice of 48 hours / 2 days.
Special discount for groups of 4 persons and more
Pricing:
Cost of the workshop: INR 3500 per person ONLY for groups of 5 persons or more
Workshops can also be arranged for less than 5 persons, at a slightly higher cost
To know more and enjoy these unique experiences at Jaipur call us at 0091-141-2372456 and ask for travel desk OR email us at info@tours2rajasthan.com (the travel division of Arya Niwas Hospitality)