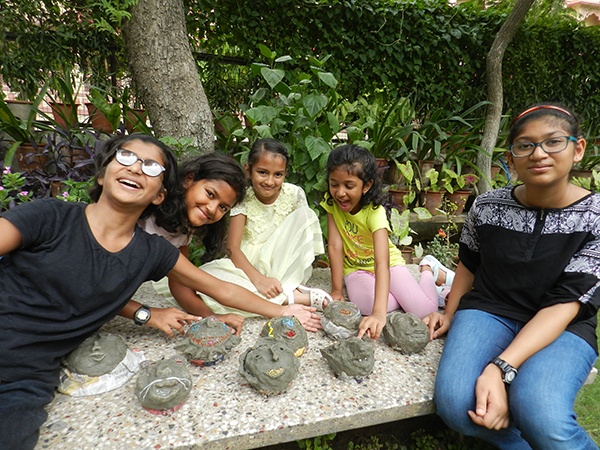 Papier Mache is a fun and creative craft form which is easy to learn and create
Papier Mache literally means chewed paper.
Strips of paper are decomposed in water to make a pulp, starch is added to the mix. The resultant mixture can be given forms as per imagination. Easy enough, made easier by the guidance of our experienced tutors who guide you through the process.
Make puppets, birds, masks, let your imagination soar!
This is a workshop for kids, of all ages!
Once the figures are dry, they are pretty firm and can be painted in colours of your own choice.
Highlights of the activity:
You are allowed to use your imagination and create beautiful sculptures and toys
Hands on activity to keep the kids busy on a sunny afternoon
Can be arranged as per your convenience with a prior notice of 2 days or 48 hours
Pricing:
A 3 hour workshop is priced at just INR 1750 per person (min. 2 people)
*The price is inclusive of all craft material used and you can take home your creations!
To know more and enjoy these unique experiences in Jaipur and to know more about the Papier Mache workshop at Jaipur call us at 0091-141-2372456 and ask for travel desk OR email us at info@tours2rajasthan.com (the travel division of Arya Niwas Hospitality)
Is this not the ideal souvenir? Do not miss these activities at your next holiday to Jaipur.
It's one of the most kids friendly activity in Jaipur and sought after things to do in Jaipur for kids. The session however is not just restricted to kids as adults can enjoy it too. Craft work in your comfortable vacation time is a good mood turn on. A relaxing and fun session, provided exceptionally by Arya Niwas Hospitality is a perfect thing to do with family and kids on your vacation to Jaipur . It is also a good choice for Indoor activities in Jaipur and again of the most advised Off-beat things to do in Jaipur